Tatoos. Some might think it's something taboo, others might think of it as an art, a statement, or even a reminder. Few (or maybe a lot) got them on a drunk night or after losing a bet.
For me, tattoos have always been something that I want to have. Maybe along time ago, I might think of it as a tramp stamp, but as time goes by and as I grow older.. Well, blame on fashion magazines and the internet, I found them becoming a
fashion statement
. Especially when those pics of Freja's float tattoo surfaced. MAN! I am hooked. If you search "Freja Beha" on google, her tattoos will be on her related search. She is my number one lesbian crush and my fav model and she has 16 tattoos. I think the most famous one would be this "float" tattoo, as it is the most visible one, and maybe 5-7 years ago during fashion week – street style photographers were swarming to take her pictures
Another tattoos that I like from hers is the one on her wrist that got publicity on Saint Laurent campaign. Super pretty and cool!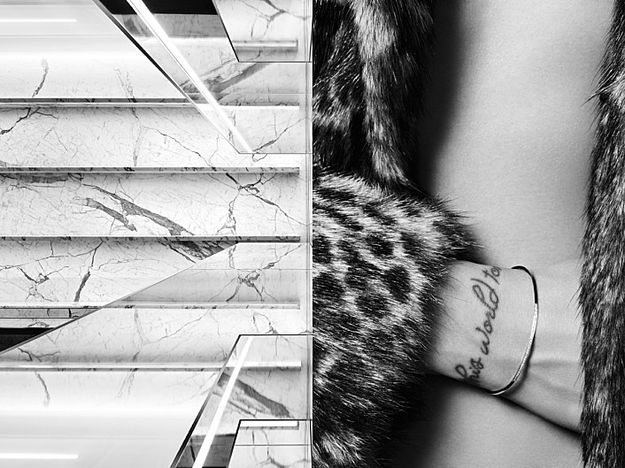 So because all of these street style pictures, editorials, and even pinterest – I really want to get one. It sounds stupid (and it is) however I want to make sure if I have something permanent on my body, it should be meaningful and I'm gonna make sure that I cannot see it, just in case I'll get bored
The easiest one of course, to have a birthday or initials.. I find quotes are tricky as I'm scared in the next few years I won't even find them relatable. I saw this "never look back in anger" tattoo and I showed it to Ren and he laughed at me, he said "but you look back in anger" LULZ. But script tattoos (especially dainty ones) are very chic.
I found the tattoo above really calming and somehow meaningful. One – I'm a florist, so this make sense. Second – it looks like the hands are healing as well, so it means we should take care of things, instead of destroying things.
Bee is cute
Wish I can pull off something like this..
Location on pointe
Constalation is nice but 'Cancer' star alignment is not pretty I think...
This is very pretty and has a great message
Initial tattoo....
So if you can have a tattoo – what tattoo you will have on your body, and where? and What does it mean to you? Please share with me!